05.06.2013
ERA-NET: European Network for co-ordination of policies and programmes on e-infrastructures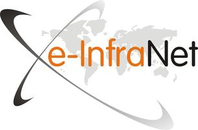 A new ERA-NET is proposed to further the integration of national, EC and global e-infrastructure programmes. An experienced consortium comprising relevant national programme managers is proposed to develop the ERA-NET, called e-InfraNet.
e-InfraNET Project is ambitious to address the need for harmonising and co-ordinating the related national efforts and establishing a common European endeavour in order to serve successful integration of the diverse and parallel local and regional policies in the field of e-Infrastructures. The ERA-NET will be targeted at national programme managers and policy makers which will improve policy collaboration and build further on the outputs of existing groups, making sure the innovative policy ideas will be integrated properly in national and EC policy.
A key long-term impact will be the more efficient use of resources, and the adoption of best-practice in national e-infrastructure programmes. E-InfraNet will lead to a convergence of funding programmes and avoid unnecessary overlap. The variable geometry approach will allow for progress to be made, while giving flexibility to adjust to national requirements and leave the route open to all to build on successful joint actions.
To read more about the project please follow the link: http://e-infranet.eu/overview/

Print this article