08.07.2014
The Bouchout Declaration highlighted by the European Commission via the EC Digital Agenda website
The article published on July 7, 2014 on the European Commission Digital Agenda website presents the Bouchout Declaration launched by the project on June 12, 2014 like a major contribution from the biodiversity community to Open Digital Science.
The article stresses that only three weeks after being launched, this unprecedented declaration have already been endorsed by more than 70 institutions and 140 individuals from 40 countries around the Globe. A total success!
With their signature, the management of the organizations and individuals encourage an overarching approach to Biodiversity Knowledge Management based on the principles of Open Access, the use of unique stable identifiers for data objects, resolution mechanisms that take users directly to content and data, registries that allow discovering, access and re-use of the data as well as fostering an ongoing dialogue to refine the concept of Open Biodiversity Knowledge Management.
The Bouchout Declaration has been translated into 8 languages available online on the Bouchout Declaration website.
Follow the Bouchout Declaration on twitter @bouchoutdec
Read the full article by the European Commission online at www.ec.europa.eu/digital-agenda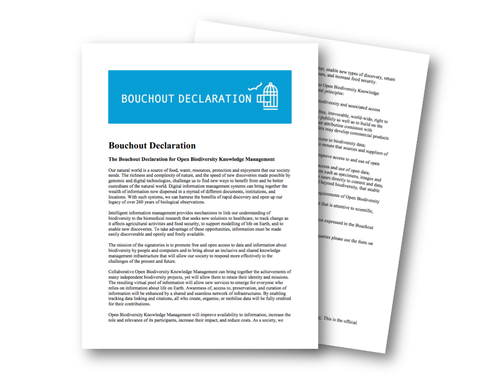 Print this article