17.06.2013
Exploring a pro-iBiosphere - Korean collaboration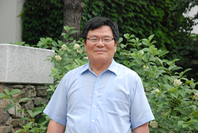 Yong-Shik KIM, FLS, Ph.D.[1]
I attended the pro-iBiosphere meeting that took place during the 21st and 23rd of May 2013 in Berlin, and found the topics of the workshops diverse and useful. It was an unusual opportunity for me to brainstorm with an expert group on the user requirements of fundamental biodiversity data and information.
During the workshops, I was very impressed to learn about the progress made by various European countries and the USA in documenting biodiversity information, including Biotas (e.g. Floras, Faunas, Mycotas).
The Global Biodiversity Information Facility (GBIF) Korea is one of the key partners to document information on biodiversity, and approximately 1,680 thousand records have been documented so far. Also, the Korea National Arboretum has documented 280 thousand herbarium specimens and 260 thousand insect specimens in the Korea National Herbarium. After my return to Korea, I discussed the outcomes of the pro-iBiosphere meeting in Berlin with the representative of GBIF Korea. We agreed to work closely together to collaborate with the relevant organizations and institutions in Korea and pro-iBiosphere. We think that there is a need to make a significant step to interweave the collaboration on national, regional, as well as international levels.
I am involved on the Global Strategy for Plant Conservation (GSPC). One of the core strategies of GSPC is the documentation of plant diversity. In my view, linking the European Plant Conservation Strategy (EPCS) under the regional and national levels would be very helpful to the participants from Asian countries.
I think that the topics addressed during the workshops organised by pro-iBiosphere are of interest to biodiversity colleagues in Korea and other East Asian countries. We look forward to being more actively involved in future pro-iBiosphere workshops.
---
[1] Chair of the Korean Plant Specialist Group, Species Survival Commission, The World Conservation Union. Member of the Advisory Committee of the National Plant Red Listing in Korea, President of the Korean Association of Botanic Gardens and Arboreta (KABGA), and Korean Coordinator of the East Asia Botanic Gardens Network (EABGN).

Print this article